Great form generator to create beautiful contact us forms
Many years ago, contact us forms were plain and dull. Besides, they lacked creativity and smoothness. But over the last few years, modern designs swept most of the dull boring contact us forms out of the Internet.
Nowadays in many sites, the contact us form can create a WOW experience. In this article, we will give you in-depth guideline for creating beautiful contact us forms.
Maps
A map, possibly a dynamic map such as Google map, can change the landscape and environment of the page design. Does a map on the contact form add only beauty? Not at all! When used properly, a map can show all visitors exactly where the location is. The page visitors can send a message using the form and be informed about the exact location of office premises.
Social networking information
Lovely, charming, attractive and colorful social networking buttons are seen in almost all websites, aren't they? Those buttons will silently sit somewhere near the form and entice the form users to click on them for more ways to contact. Believe it or not, charming and beautiful buttons can increase click through rates. Effective forms with social networking information will make the visitors follow on the social networks such as Facebook and Twitter.
Appealing illustrations
Serious and perfectionist site owners make sure that the design of the contact form is very appealing. Why is it important? Surely, an appealing contact form lures more people to send messages. Another obvious benefit is – these kinds of forms quickly build trust in the minds of the site visitors, don't they?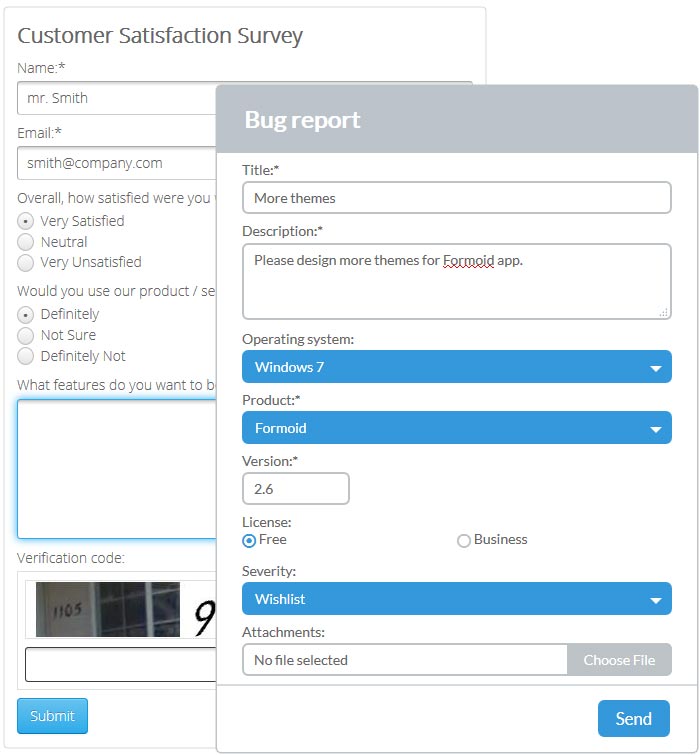 The forms should reflect the branding of a person or company
Are you surprised to see that even the contact Formoid should reflect branding? No wonder, you may see a programming or coding like design on the contact us page of a software company or a software engineer. A graphic designer may use a used post card in the form background. A cartoon maker company can put the form in the middle of popular cartoon characters. Nearby the form, a general company may show a person picked up the phone to call someone. There is no lack of creativity in the designs. Some designs are truly food for thought, some are awesome and some are just mind-blowing.